25.10.2012
On October 19th 2012, Prof. Henry Chesbrough, ranked on Thinkers50 list – the definitive global ranking of management thinkers – lectured to over 170 business leaders from 22 countries, at the 25th Annual President's Forum of IEDC – Bled School of Management, Slovenia.
Prof. Chesbrough, University of California, Berkeley, attending at the invitation of Studio Moderna marking its 20th anniversary, has written extensively on the topic of innovation, but he is best known for his work on Open Innovation, a term that he helped popularize. He explains: "Open innovation advises companies to make more use of external ideas and technologies in their own innovations, and allow unused internal ideas and technologies to be used by others for their innovations."
He also stressed the increasing relevance of the open innovation model. Since 2003, when he wrote his first book on this topic, a lot has changed. Performing a simple Google search on the term "open innovation" nine years ago, he received around 200 page links. Most of these were in the form that "company A opened its innovation office at location B", so that the words "open" and "innovation" appeared in the same sentence, but with no special meaning to the term. "When I did that same search on Google last April, I received 483 million links," he stressed.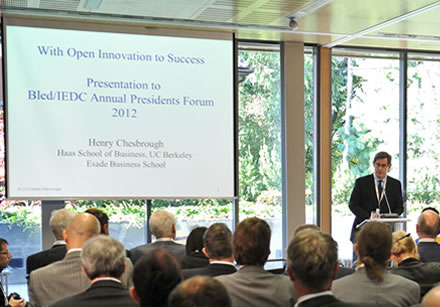 The opening address at the forum was given by Dr. Danilo Türk, President of the Republic of Slovenia: "We need innovation in various fields. Not only in technology, particularly in science, engineering, and business models. We also need so called 'political innovations."
Dr. Danica Purg, President of IEDC, acknowledged that MBA program of IEDC-Bled School of Management was awarded by The Association of MBAs (AMBA) as one of the four most innovative in the world. At the President's forum the winners of the IEDC Alumni Achievement Awards - AAA 2012 were also revealed: Melanie Seier Larsen (Slovenia); Ivana Gažić (Croatia); Jovan Šarenac (Serbia); Anwar Irmatov (Rusia) and Ardian Hoxha (Kosovo).
The expert panel discussion was led by: Sandi Češko, Founder and Chairman, Studio Moderna Group; Wilfried Grommen, Account CTO, Hewlett Packard EMEA; Jožek Gruškovnjak, Director, Emerging Markets, Cisco Systems; and Iztok Seljak, President, Management Board, Hidria, d.d.
Sandi Češko, Studio Moderna Group: "Knowledge and innovation is the key to success, to visibility and for creating added value. For the 20th anniversary of Studio Moderna we decided to invest resources to mark this occasion in knowledge - and to share this knowledge also outside of our own company, which goes hand in hand with the concept of open innovations."
Jožek Gruškovnjak, Cisco Systems: "Open innovations reflect the main trends of the present time, when the power moves away from centralized institutions towards individuals."
Wilfried Grommen, HP: "Innovations are a never-ending story in business. Innovation is a state of mind."
Iztok Seljak, Hidria: "The innovation process in companies is not a random moment. In order to work well, it must be done systematically."
The President's forum of IEDC-Bled School of Management, Slovenia, also had a social responsibility notion, as part of the forum fees were donated to IEDC Foundation for Developing Future Leaders, which helps provide education for prospective managers from less developed regions that have the potential of making positive change in the world.
Open Innovation at glance:
Closed innovation principles:
The smartest people in our field work for us.
If we discover it ourselves, we will get it to market first.
If we create the most and best ideas in the industry, we will win.
Open innovation principles:
Not all of the world's smart people work for us, so we must find and tap into the knowledge and experise of bright individuals outside our company.
We don't have to originate the research in order to profit from it.
If we make the best use of internal and external ideas, we will win.